Featured A3 Inventory
Sorry, we do not currently have any featured inventory on our website.
Please call 980-643-8220 for further assistance.

The Many Reason to Choose the 2020 Audi A3 as Your Next Vehicle
There are many reasons that should put the 2020 Audi A3 at the top of the list for potential vehicles you should add to your life. Many of the current drivers might disagree as to what makes this model so popular, but that is because there is a lot that it has going for it. It could be because of its performance, or its style, or it could be the comfort of the cabin, but what they will all agree on is that you should get behind the wheel to see what makes it great for your lifestyle.
The two trims of the 2020 Audi A3 include Premium and Premium Plus.
Interior Features & Design
The convenience and connectivity of the cabin are enough to make it one of the most popular options in the Audi lineup. From the available Audi Virtual Cockpit that allows for customizing the information that you will need to the standard dual-zone climate control system, you will always feel like you are in complete control of your drive when you choose the 2020 Audi A3.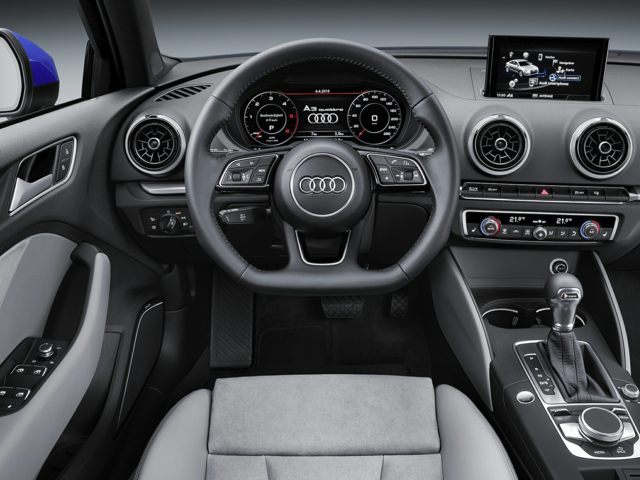 Exterior Features & Design
The Singleframe grille for the 2020 A3 comes with a titanium black finish with LED headlights on either side of it, making a distinct first impression for anyone who is driving near you. You will also have LED taillights with available dynamic turning signals that not only make it clearer as to where you are going but adds a little style to an essential part of every driving experience. There is no other model that offers the same assortment of exterior features, which is why we want you to visit for a closer look at what this model can do.
Performance Options
You can find the 2020 Audi A3 with two powerful engine options. The first of these options is the 2.0-liter TFSI engine that makes up to 184 horsepower and 222 pound-feet of torque. This engine will keep you smiling whenever you are on the highway, but when you want to be pushed back into your seat, you should choose the more powerful engine. The second engine option comes with up to 228 horsepower and 258 pound-feet of torque. Each of these engine options will be dependable and capable, giving you a model that you can rely on whenever you are behind the wheel.
The choice between front-wheel drive and all-wheel drive allows you to have the exact control and driving experience that you are looking for. If you are somewhere that needs an advanced all-wheel drive system, then quattro all-wheel drive is the best choice, allowing you to keep the best control on any roads that you drive.
Technology & Safety
One of the reasons that the 2020 Audi A3 is among the most popular models is that it comes with a variety of advanced driver assistance features. Many of the safety features that you will find for the 2020 Audi A3 are standard through the Audi pre sense basic and Audi pre sense front suite of features. These systems work together using cameras and radars to cover every angle and to help you avoid as many problems as possible. There are also more features that you can include, like Audi Active Lane Assist, Audi Side Assist with Rear Cross Traffic Alert, and Audi Adaptive Cruise Control.
You'll be able to find a wide selection of innovative media options inside the 2020 A3. The MMI touch with handwriting-recognition technology allows you to find anything that you need with just a swipe of your finger. This is just one example of how Audi is making your life a little simpler.