Complete Your Audi Scheduled Maintenance in Charlotte
When you bring home your new Audi model, the last thing on your mind is probably keeping up with your scheduled maintenance. But you'll be surprised how quickly that first appointment comes up, and you don't want to miss out on the complementary services that come along with it. Whether you're approaching your first scheduled maintenance window or you've had your Audi for years, keep up with your scheduled Audi maintenance at Audi Northlake in Charlotte!
Schedule Your Service Online
We make keeping up with your Audi scheduled maintenance in Charlotte a breeze thanks to our online service scheduling tool. Odds are you have a pretty good idea when you'll next need to bring your vehicle to us for a service, so save yourself the time and hassle and schedule your next appointment online today! Once you do so, not only will you have the time slot for your next appointment locked in, but we'll be able to send you reminders when subsequent milestones are approaching.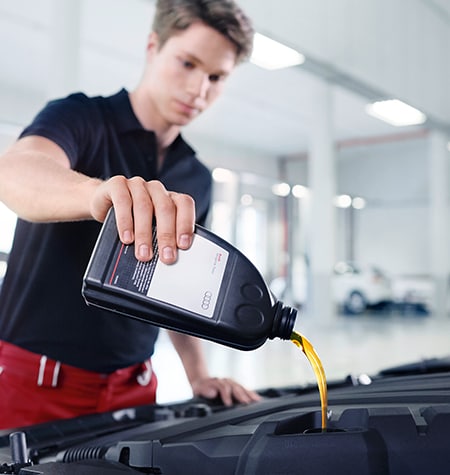 Why Perform Scheduled Maintenance?
When you first test drove your new Audi, you fell in love with the smooth ride, responsive handling, and exhilarating power from the turbocharged engine. To maintain that same level of premium performance, keeping up with scheduled maintenance is critical. Your engine oil is responsible for properly lubricating fast-moving metal parts so that they don't become damaged or overheated. Dirty oil is unable to lubricate properly, while old oil loses its ability to coat surfaces as necessary. Having your oil changed and filter replaced regularly will not only help your engine live a long life, but reduces power loss over time as well.
Other fluid checks such as brake fluid and coolant help ensure you're staying safe behind the wheel and that your engine runs smoothly under any conditions. While these fluids don't often require attention, checking them can help you detect potential problems before they become major issues.
If you have an automatic transmission, your transmission fluid is important to delivering quick and smooth shifts to keep you moving forward effectively and efficiently. Your fluid level will be checked to ensure you're not experiencing any leaks, and will be changed every 40,000 miles to help keep things working properly.
Over time your brake components will wear out and your ability to brake with confidence will be reduced. Audi Scheduled Maintenance includes checking your brake pads and rotors to ensure you're always able to stop whenever you want to. Your brake pads apply friction to brake rotors when slowing you down, and this friction causes both heat and physical wear on both components. If either becomes too worn you'll experience uneven brake pressure and a reduction in overall stopping power that can become unsafe if left unchecked.
Spark plugs are critical to the efficiency and power of your Audi vehicle, and they become dirty and worn over tens of thousands of miles. That's why Audi scheduled maintenance includes spark plug replacements between 30,000 and 60,000 miles, depending on your Audi model.
Other checks include a multi-point inspection that includes everything from the interior lights and instrument cluster to the condition of the underbody and suspension. Audi routine maintenance is designed to ensure you get the most out of your Audi model no matter how long you intend to keep it. Because of that, we check nearly every component on your vehicle periodically to help you stay ahead of problems and maintain the excellence you've come to expect from your Audi vehicle.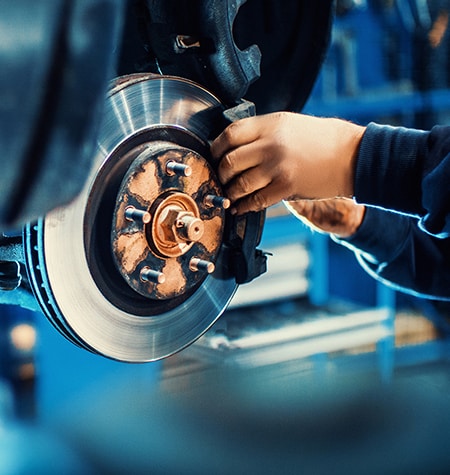 Visit Our Dealership Today!
To schedule your Audi Scheduled Maintenance appointment, use our online form or visit our dealership in Charlotte today! Our expert technicians are here and waiting to give your Audi model the special care it deserves.
---
Hours
Monday

7:30AM-6:00PM

Tuesday

7:30AM-6:00PM

Wednesday

7:30AM-6:00PM

Thursday

7:30AM-6:00PM

Friday

7:30AM-6:00PM

Saturday

7:30AM-3:30PM

Sunday

Closed